As much of Cornwall as you can stand!
The Cornwall Times-Dispatch
Volume 34 Issue 7
September 22, 2007
Chief of Police Mandates Superhero Training as Condition of Service.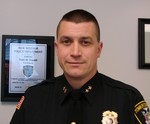 Todd Hazard, Chief of Police since March 2007 – wants you to know that nothing bad is going to happen on his watch.
"Ever since I've been in the force, I've felt, and recently come to the conclusion that the only way to effectively fight crime is to require our officers to participate in Superhero training classes as part of a way to make our communities safer, and remove the need for us to use our firearms as a method of defense."
Hazard, 39, says he was inspired to make the change after a late night viewing of "X-Men United." While the tradition for officers of the law is to carry a firearm, most commonly Glock 9 MM pistols, Hazard says the new mandates will eliminate not only the need for an officer to carry a weapon that could possibly be used against them, but to allow them to experience complete and total protection against shots fired, stab wounds, blunt force trauma, and animal bites. As an offensive measure – Hazard says the superhero training will allow the individual to tap into mystical powers within, allowing officers to fell criminals from a distance with no force whatsoever, instead freezing them in a "paused moment in time." This will allow the officers to stop criminal activity in an instant and provide an opportunity for cuffing, arrest, and transport to the station, without any trauma. Hazard insists this is the most humane way possible, as the subject will go from committing a crime, to safely in a holding cell without becoming a danger to him/herself or others. Once inside the cell, the individual will un-pause, and will suffer no lack of memory, amnesia of arrest, other problems. The subject will remain coherent at all times.
Hazard also has spoken to town supervisor Kevin Quigley regarding the training for Highland Engine Co., and COVAC, as well.
"We feel that the superhero uniform of cape and hood will provide excellent protection for those of our community brave enough to offer emergency services to those in need. The ability to walk through fire, over water, and fly will no doubt make Cornwall the most desired community to live in the Northeast. Not to mention the supreme strength offered, we could eliminate our need for the Jaws of Life totally!"
Hazard, with his boyish good looks and small-town charm insists this won't change his personality in the slightest, and citizens can still call upon him for even the smallest of problems – such as lost bicycles and kittens stuck in trees.
While pulling on his dark blue cape, Hazard remarks, "I still want Cornwall to know that I'm the "Peoples' Chief. There isn't anything I wouldn't do for the community. This won't change that."